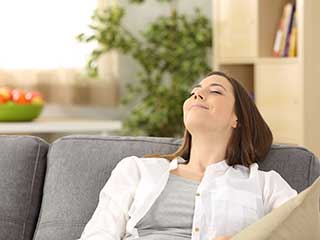 You know those times when you walk into a room, close the door behind you and immediately get this nagging little headache? If this happens once, there's probably no cause for alarm, but if you enter your house, room or any other structure and get that same feeling over and over again chances are, some kind of action is needed. In most cases the perpetrator is the air itself, or rather, its poor quality.
Poor Indoor Air Quality
Fresh air is a necessity. You simply don't feel well without it. Fresh air within buildings is achieved by maintaining proper ventilation. This means that the old, used air is carried outside, and new air freely flows in. The problem begins when buildings suffer from poor ventilation. In such cases, the used air stays in and little fresh air manages to come through. Add to that one of any common pollutants in buildings, and you've got yourself a recipe for trouble.
Common Pollutants
What can lower the quality of the air you breathe? Any number of factors, with the more common ones being mold, a dirty environment, dust and even materials used for building the structure such as lead and asbestos. When these elements are present in a space that suffers from poor ventilation, they continuously lower the air quality within that space.
Air Quality Test
In order to avoid issue related to poor indoor air quality, which can vary from mild discomfort to serious respiratory complications, one should order a periodic air quality test. When you contact us, you'll get a visit from one of our teams of professionals. They're fully equipped, trained and experience experts, that will check one space after the other until the entire premises has been covered and checked. Then, they will issue a detailed report specifying any problems found, their location, likely cause and recommended ways of treatment.
Contact Us
If you live in the local area and require top-notch air quality tests just give Air Duct Cleaning Spring Valley a call and we'll let you know exactly what's going on in your building!