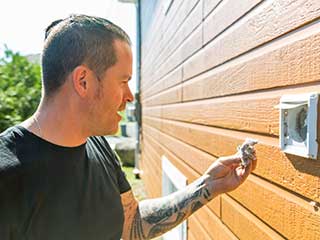 One of the most common electrical appliances people seem unable to manage without these days is the dryer. This little helper actually does important work. Instead of wasting precious time hanging out the clothes to dry, assuming you have where to dry them, you load it up with wet clothes and come back later to a dry, scented pile of clothes.
Not Just the Machine Itself
Although being very common, not everybody knows how it works and that some of its most important parts are the ones outside the machine, and not just the machine itself.
One such crucial part is the dryer vent. Since dryers use hot air to dry clothes, they also need a way to release that air once it has been used, otherwise, it can cause it to overheat. That's accomplished through the dryer vent, which is a duct that connects the dryer to the outside, while running through the wall(s).
What Can Possibly Go Wrong?
When clothes dry out in the dryer, small pieces of lint come off. Part of that lint gets carried away through the duct, and some of it sticks to the sides of the pipe. When residual lint starts building up along with dust and other debris, the vent can get partially or completely clogged. When that happens, the hot air has no means of escape and it remains trapped within the machine.
This leads to several unwanted results. First, the hot, humid air stays at the same place as the clothes and prevents them from completely drying. Second, as the machine continues to make hot air and fails to release it, it's in danger of overheating. Third, all the accumulated lint poses a serious fire hazard that can burst into flame any time, putting everyone in the house at risk.
Expert Solutions – Ideal Results
When you call our team for professional dryer vent cleaning you can expect a fully-equipped, professional team of technicians to arrive. Their first order of business will be locating the vent's external opening and uncovering it. Then, they will use their professional, extendable lint brushes to carefully clean the entire duct and apply other professional techniques if the situation requires it. Only once the duct has been thoroughly cleaned will they close it once again and leave everything clean and tidy.
The Solution – Professional Cleaning Services
If you suspect your dryer vent needs cleaning, all you have to do is contact Air Duct Cleaning Spring Valley's professional team and wait for them to come fully equipped with special lint brushes and other high-end equipment to perfectly clean your duct. Don't hesitate, contact us right now.