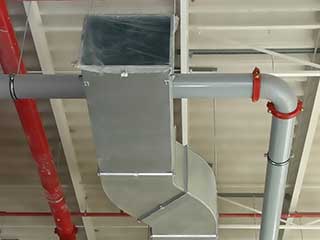 At Air Duct Cleaning Spring Valley we understand the importance of keeping your place of work free from harmful contaminants. Your HVAC systems might be perfect for circulating air and regulating temperatures, but when they get clogged by dirt and debris it can not only affect their performance, but may also spread unwanted and dangerous particles throughout the air in your office or factory. This may result in a lack of productivity and a higher rate of absentees due to illnesses. So, to keep your air clean and your productivity high, be sure to have one of our commercial air duct cleaners sanitize your vents for you. Here's how we are prepared to assist you:
Gauging the Quality of Your Indoor Air
Let us help you determine whether or not your vents need to be cleaned by having us perform an indoor air quality test in your place of work. When vents and ducts take on too much dirt and debris, the resultant drop in air quality can have a direct effect on the health of your staff. For this reason, performing an air quality test is a crucial first step towards having your ducts and vents professionally cleaned.
Commercial Air Duct Cleaning and Disinfecting
The nature of your business will have an effect on the operation of your industrial air ducts. Workplaces that produce high levels of dust, or those that simply have a lot of foot traffic need greater attention when it comes to air filtration, which could lead to your vents being clogged more quickly. So, speak to us for more information on having your ducts thoroughly cleaned and sanitized by an experienced professional.
Keeping Your Dryers in Optimal Condition
Restaurants, hospitals and cleaning businesses that rely heavily on dryers will know how quickly they can get bogged-down by lint and debris throughout their use. This will hamper their performance and may even lead to possible fire hazards, since lint is extremely flammable. To keep your business safe from these risks, have one of our technicians inspect and clean your dryer vents today.
Call Us Now For More Information
Give Air Duct Cleaning Spring Valley a call today to have one of our professional commercial air duct cleaners inspect the quality of air in your place of work, while raising it with professional cleaning methods that are guaranteed to leave your premises free from unwanted contaminants while enjoying superior air flow and temperature regulation without chewing through your power bills. All of our consultants are happy to offer information and advice, so give us a call today.